Congratulations WCS Member Anthony Arya!
Good friend and active member of West Coast Songwriters, Anthony Arya was selected by Bluebird Cafe as the first Bluebird Golden Pick Contest winner of Season 3.  Anthony is a folk/rock artist from Santa Cruz, California. At age 15 he was on Season 15 of NBC's The Voice and shortly after released his debut album, Going To California. In June 2020 Anthony was awarded the Presidential Scholar in the Arts in the category singer/songwriter. Anthony performs regularly around the San Francisco Bay Area both solo and with the Anthony Arya Band. He is currently working on a new album of originals, due out in May 2022.
Listen to Anthony's winning song "Jaded Rust" here: https://www.instagram.com/p/CYDdZAHoc5d/
As a part of this contest with Taylor Guitars, Anthony wins a Taylor Grand Theater guitar, a trip to the Taylor Guitars showroom in Nashville, tickets to a Bluebird Cafe show, and much more!  He'll also be performing two original songs at the Bluebird open mic night, now rescheduled to Monday, March 28 due to inclement weather expected.
Read more about the contest here: https://bluebirdcafe.com/the-bluebird-golden-pick.../
Song Contest Winner and Finishers in the 2022 Will McLean Best New Florida Song Contest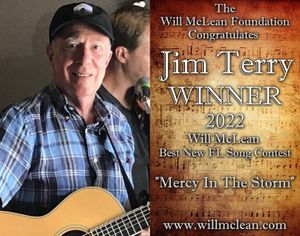 The winner of the 2022 Will McLean Best New Florida Song Contest is Jim Terry from Napa, CA. The song highlights a dark time in Florida's history when the 1928 hurricane ravaged the communities surrounding Lake Okeechobee. Terry says, "As a songwriter, one thing that has become increasingly clear to me is that you never know when or how inspiration will arrive in your mental inbox. The inspiration for Mercy in the Storm came from an unusual source for me – from a piece of art in the form of a sculpture." READ MORE
Joel Evans January 2021 Music in Disney+ Marvel Limited Series!
Fun to be able to say we have music in the new Disney+ Marvel Limited Series: WandaVision! "If I Could Make You Mine" is written with Adryan Russ, arranged & sung by Willie Murillo.
Placement by Crucial Music
Anthony Arya - THE VOICE-SEASON 15 - 2018
Anthony Arya Age 16 Santa Cruz, California, Team Adam Placement Top 54
David Luning-Contestant - AMERICAN IDOL SEASON 13 - 2014
Age:26, Contestant #8191, Placed: Hollywood Round, David audition in San Francisco. He sang an original song.